Singapore Case- Why is Retention Increasingly Important?
Before we dive into the topic of onboarding and its impact on retention, let's take a close look in Singapore's context to understand why retention is an increasingly critical human capital issue.
Singapore's workforce is experiencing a trend in which there is :
• Net zero growth due to decreasing population growth and controlled foreign worker employment
• Ageing workforce due to low unemployment rate and more educated fresh school leavers
These imply to companies that:
• They have less supply of talent to choose from
• Every employee is a valuable resource
• It is important to leverage on current human capital and retain performing talents
According to EON HR consultants who have worked with various organisations, many Singapore enterprises, especially SMEs, face a common HR challenge – Retention of performing talents.
Common Problems Faced By Singapore Enterprises
Source: EON Consulting & Training
This challenge, coupled with the trends in Singapore's workforce, imply that organisations should focus on improving their strategies to acquire, quickly develop and retain talents. This can be done by enhancing the onboarding programme.
Onboarding Aspects
According to Oxford Dictionary, onboarding is defined as the action or the process of integrating a new employee into an organisation.
Onboarding can be broken down into 5 aspects: Acquire, Accommodate, Assimilate, Adapt and Accelerate.
5 Aspects of Onboarding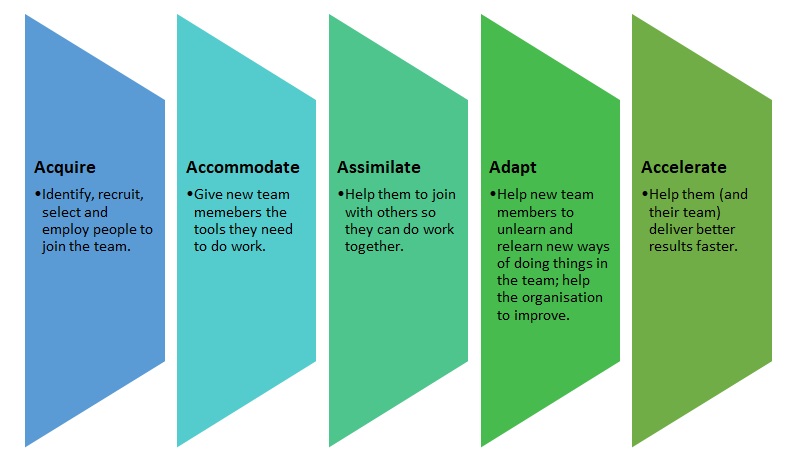 Source: EON Consulting & Training Pte Ltd
• Acquire: relates to the company's strategy to convey the key mission, vision and values to the public and the branding strategy to reach out to targeted potential employees.
• Accommodate: relates to the orientation of the new hire to his working environment and to the organisation.
• Assimilate: when the organisation helps the new hire to blend into their culture. The new hire may bring in the culture from his/her past working experiences, which are different from the organisation culture. At this stage, the new hire needs to build professional relationships with his teammates.
• Adapt: when the new hire unlearns old practices and learns the new practices being used by the organisation. It is also the stage when the organisation learns from the new hire from his past experiences and get a fresh perspective to improve current process and functions.
• Accelerate: when the new hire is helped to build up his/her competency to perform his/her job.
When these 5 steps are effectively done, employee engagement and employee experience will be enhanced, which translates into lower intention to leave.
Onboarding vs Orientation
"While onboarding isn't new … this critical period in the employee life cycle is more important than ever," said Amber Hyatt, Director of Product Marketing at SilkRoad – an American multinational human capital management software company.
Onboarding is often mistaken to be a single event (orientation) rather than a strategic process. During orientation, new employees will be participating in a one to two-days programme in which they are walked through basic information about policies and procedures, introduced around the office and do a lot of paperwork.
While orientation plays a crucial part in the onboarding process, it does not represent the entire onboarding programme. Onboarding process include both orientation, training and a series of activities to assimilate new hires into the corporate culture and inspire them to become engaged, valued and loyal employees.
The Importance of a Well-Structured Onboarding Programme
A well-structured onboarding programme can bring about many advantages to an organisation. Some organisations do not pay sufficient emphasis to the onboarding process because they are unaware of the long term benefits a good onboarding programme can bring.
There is a positive correlation between effective onboarding programmes and retention. According to Society for Human Resources Management, new hires who go through a good onboarding process are 69% more likely to remain at a company for up to three years. In contrast, a poor onboarding programme can result in higher turnover rate and incurrence of financial losses, as the average cost of replacing an employee is between 16% and 20% of that employee's salary .
A survey by BambooHR in 2014 collected responses from around 1,000 employees.
First impression matters. A study by the Aberdeen Group in 2009 with senior executives and HR staffing and recruiting departments showed that 86% of them felt that a new hire's long-term decision to leave or stay with a company is made within the first 6 months of employment. Such data underlies the importance of effectively onboarding a new hire and engage him or her immediately to the work and culture.
Letting them feel welcomed by the teams and supervisors and giving them a sense of belonging to your organisation can contribute to establish a collaborative working environment, boost teamwork and productivity. Setting clear objectives and minimising misunderstandings for new hires will facilitate and engage them in the new jobs.
In summary, a good onboarding programme improves retention and strengthens employer brand names. In addition, an effective onboarding programme can shorten the learning curve for new hires, allow them to be productive and competent at their jobs as soon as possible and become valuable members of the organisation. Therefore, onboarding can be and should be a strategic process for Singapore employers to prioritise and invest in.
References:
Onboarding Key to Retaining, Engaging Talent
Onboarding new employees-Maximizing success
Inforgraphics- The onboarding statistics you need to know