Benefits of Flexible Work Policy
A new global finding in 2017 on the future of work drew responses from more than 10,000 employees from five countries: Singapore, Australia, China, India, and Japan. The survey shows that 62% of global working population are working flexibly on a frequent basis and 98% of them agree that working flexibly boosts their productivity.
The Flexible: Friend or Foe?
Another survey conducted in 2017 collected data from SMEs, public sector organisations and MNCs from 10 countries indicated a similar result. Not only do flexible work policies (FWP) give rise to higher employees' productivity but also increased profits and reputation.
83% mentioned an improvement in productivity
61% indicated an increase in their company's profits
58% agreed that FWP positively impact their organisation's reputation
The results from Singapore companies suggest a similar trend. Among the participated organisations, only 76% have implemented FWP. The benefits flexible work arrangements bring to these organisations include increased profits, enhanced productivity, improved teamwork, better employees' morale and work-life balance.
53% of Singapore organisations experienced an increase in profits after implementing FWP
Employees productivity improved by 77% for Singapore organisations who have implemented FWP
54% of Singapore organisations who have leveraged on flexible work arrangements see an improvement in teamwork
54% of Singapore employees reported that FWP improved their work-life balance
75% of these organisations experienced improvement in employee morale
Video Collaboration Technologies
Videos collaboration technologies can be utilised to maintain teamwork and work effectiveness when implementing FWP. 91% of survey participants agree that having video calls with colleagues improve teamwork and relationships because it supports their social interaction, which could be missing for employees who work remotely.
In particular, 97% of Singapore respondents believe that collaboration technologies play a critical role in building relationships and improved communication with their co-workers and stakeholders, with or without working remotely.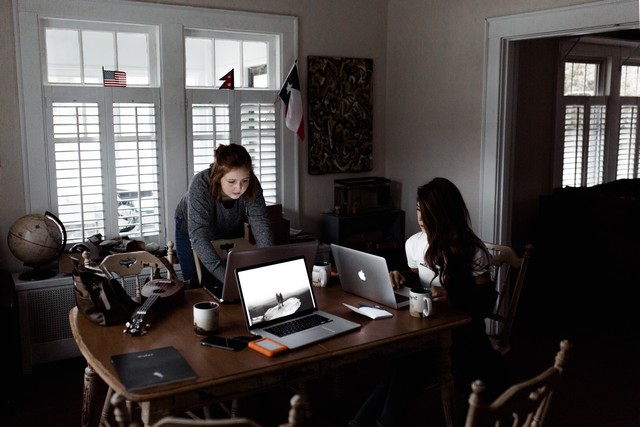 Challenges to Implement Flexible Work Policies
Vodafone's survey in 2017 found that 20% of global respondents had yet to implement FWP. In Singapore:
27% of Singapore companies did not implement FWP because of the potential risk to teamwork effectiveness
57% of Singapore employees feel they do not have a suitable flexible work policy in their workplace
38% of Singapore employees are not active on any enterprise social network
The traditional belief that there is a positive correlation between physical appearance at workplace and being hardworking poses a challenge to FWP. Many Asian companies are used to appraising staff based on their physical presence at the workplace, which contradicts the idea of working remotely. Indeed, around 62% of millennials are worried that they would not be evaluated as diligent due to their absence in the office. Organisations can overcome these concerns by setting clear targets for employees so that they are fairly assessed based on performance and not attendance.
In summary, both Singapore and global companies are drawing advantages from implementing FWP. As the trend continues, organisations will need to create more collaboration methods such as video collaboration technologies. This will ensure effective teamwork that generates higher productivity and profits. Management support in FWP can encourage and empower employees to showcase improved performances when they work remotely.
Read more: Engaging Millennials at Work
References:
Global survey reveals rapid adoption of flexible working
Definition of Enterprise Social Networking
53% Companies in Singapore Report Increased Profits Post Implementation of Flexible Working Policies (HR in Asia – HR News)
Anxious Millennials Seek Stability and Prefer Flexible Working Arrangements with Employers