Many organisations struggle to ensure the effectiveness of their learning and development interventions. One of the challenges is ensuring employees translate the learning into tangible improvements in work performance. Leaders can play a part to support their employees by creating a positive and effective learning environment. This will allow individuals to better able apply their learning back to the workplace hence ensure a higher success in reaping the results from the training.
According to the Institute For Adult Learning, six factors affect the effectiveness of learning: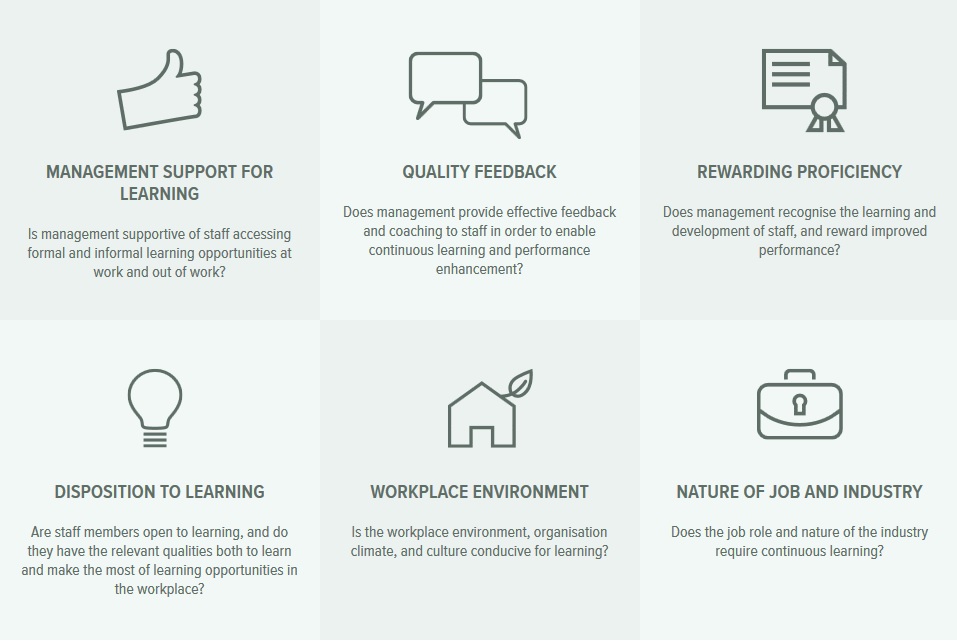 Source: Institute for Adult Learning (IAL) Singapore
Management support for effective learning
Support from management enables staff to better apply practices learnt from training into their jobs, and improve the existing methods. Being open and flexible with new processes allow organisations to keep up with new and better programs.
Quality feedback
It is also crucial to conduct regular check-ins on employees' progress and provide challenging tasks for employees to have the chance to practice their skills. Positive feedback does wonders in engaging employees and reinforcing change.
Rewarding proficiency
Spot reward can be a great way to boost employees' morale and productivity. Spot Rewards are essentially rewards or appreciation given to an employee for outstanding contribution. Recognising employees can motivate them to work harder, improve productivity and job performance.
Disposition of learning
At the recruitment and selection stage, managers ought to look for candidates with strong learning agility. During onboarding programs, managers can emphasise to employees that they are strongly encouraged to ask questions and clarify their doubts. Having a culture of asking and learning help facilitates the generation of innovative ideas and continuous work improvement. 
Workplace environment
The work environment, climate and culture play an important part in supporting employees' learning and performance. A work environment that limits the exchange of information among team members may not benefit the development of teamwork and innovation.
Nature of job and industry
The nature of some jobs and industry does not require continuous learning. Some routine and repetitive tasks emphasise on regular practices and mastering job skills more than bringing new ideas and methods.
In summary, organisation leaders should assume a proactive role in creating a positive and effective learning environment to empower employees' learning beyond the classroom setting. Having a good blend of classroom training and the right learning conditions at the workplace not only enhances the individuals' learning journey, it will give rise to higher employees' productivity and satisfaction and ultimately, translate into improved business performance and profitability.
References: